Robert E Lee High School
Class Of 1975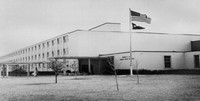 Welcome to the web home of the
Robert E. Lee-Houston Class of 1975
After much deliberation and out of an abundance of caution, it has been decided that the upcoming 45th Robert E. Lee Class of 1975 reunion will be postponed from 9/26/2020 to 2/27/2021. Since we are all 60+ in age, we are in that "high risk" category the medical community keeps talking about! Also, it is hard to make travel plans, as the situation changes from week to week. We feel that by next February, things should be safer and we can relax and enjoy getting together!
We hope you will use this site to stay updated on our plans and to register for the rescheduled reunion in February 2021.
If you have already registered for the reunion, thank you! We will apply your payment to the February event. If you would like to sign up now, you can click on the event link and register now. We will still be at the Forest Club from 7-11 p.m. and the cost is $55.00/person. This includes a Fajita Buffet and disc jockey entertainment. A cash bar will be open as well.
Looking forward to seeing lots of you next February! Stay safe and well!
Nancy Capps Forester Merrill Locher Rome John Stavinoha
Nita & Bill Jackson Stuart Ford Phillip Jorden
For more general information about Lee High School, here's the link: Lee Alumni association